Everybody's favorite foodie holiday is just under two weeks away! But are you ready for your big Thanksgiving feast? No matter if you're entertaining for 5 or 50, it's always difficult to have things run without a hitch. What is your biggest struggle during Thanksgiving? Maybe it's the food, maybe it's the decor, but no matter your biggest worry, we wanted to share some tips that will help your holiday run smoothly for you and all of your guests.
taken from: Triplets in Tribeca
Don't Overcook For You and Your Guests
One of the biggest difficulties to figure out on Thanksgiving is just how much food you need to cook. How many pounds of turkey per guest is standard? Just how much wine should accompany the meal? When thinking sweet tooths, what is the right amount of pumpkin or apple pie? Thankfully Food Network has a handy guide that covers any possible Thanksgiving item you could imagine.
The general takeaway? More is less unless you want your guests bursting at the seams or are looking to eat roast turkey sandwiches for two weeks. Think 1.5 pounds of turkey, 1/2 cup of gravy, 1/4 to 1/2 bottle of wine, and 1/4 of a pie per guest. If you know Grandpa or Uncle Joe are especially big eaters, plan accordingly. Or, if you want to test other dishes as new items to your Thanksgiving repertoire, check out Pinterest for inspiration.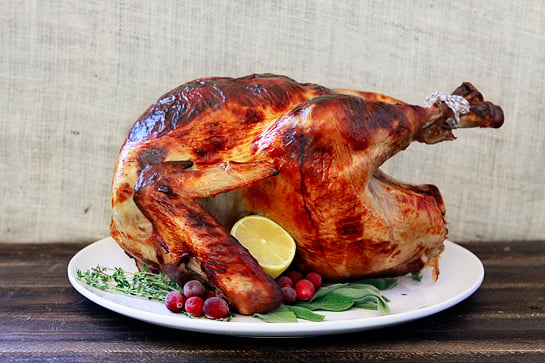 taken from: Good Life Eats
Thoughtful Decor Makes a Good Meal Great
Most of us don't have an inner Martha Stewart when it comes to decor, especially for large-scale gatherings like Thanksgiving! That's where we can come in to help. It doesn't necessarily take a ton of time and effort, as even small-scale decor ideas go a long way in making guests feel welcome, but decor does play a role in enhancing your Thanksgiving meal.
To start off small and work our way up, we wanted to highlight some great place holder and table setting ideas from Buzzfeed. With pine cones and newly fallen leaves littering the yard, why not use them as placeholders to let guests know where they're sitting. Other great ideas include using Granny Smith apples as candle holders to add a romantic and rustic touch to your table, if your dinner is after sunset.
If you're hoping to be just a little more ambitious, there is an absolutely gorgeous set of Thanksgiving printables over at the Tomkat Studio. These printables allow you to complete an entire coordinated Thanksgiving set in the theme of "Give Thanks." There is wall decor/fireplace mantle, placeholders, a framed "Happy Thanksgiving" sign, and little cupcake toppers that say "Give Thanks." Imagine the smiles on your guests' faces when they see these memorable little touches!
taken from: the Tomkat Studio
But the best way to have a great Thanksgiving is to show a spirit of giving and thanks, which is what the holiday is all about. To help others get inspired, feel free to share your other Thanksgiving tips or any other positive thoughts to make your preparations less stressful.